Wakelyns is at IP21 5SD in Suffolk, UK
Wakelyns comprises over 50 acres of agroforestry in north-south tree lines with an organic rotation cropping system in between.
Ann and Martin Wolfe bought Wakelyns in 1992 after Martin's earlier scientific career showed how mixing even just three varieties of a cereal crop together could restrict disease and stabilise crop yield. Their idea was further to experiment with forms of agriculture by using diversity and reversing the trend to crop monoculture though organic rotation agroforestry. From 1994 they planted, and then maintained, one of the oldest and most diverse alley-cropping agroforestry implementations.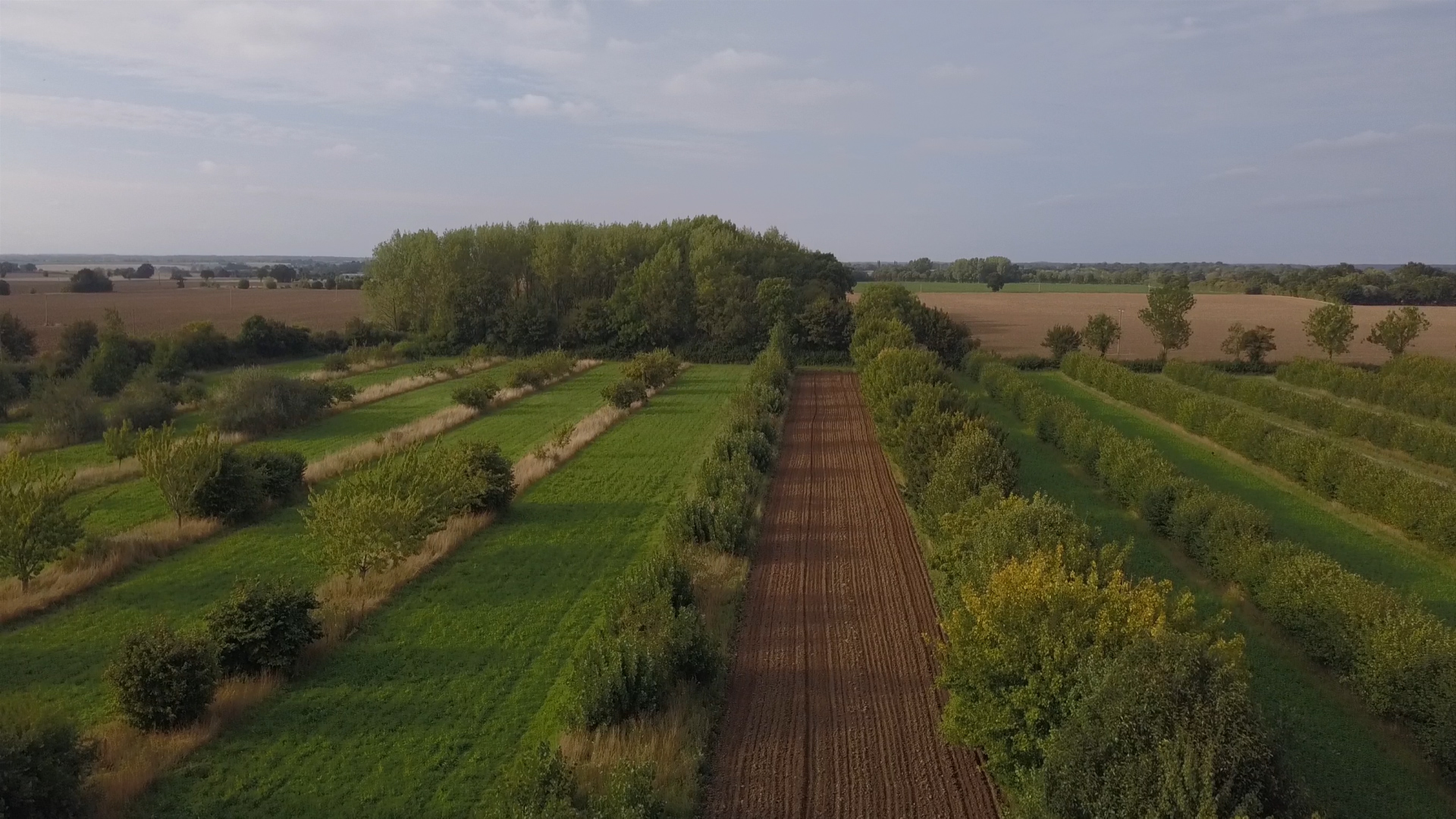 Different areas at Wakelyns have different tree line spacing: 12m, 15m or 18m; and different types of trees in the tree lines some for timber, some (hazel and willow) on a short rotation coppice for fencing and for biomass; and a wide variety of fruit trees (including 40+ types of apple, as well as pears, many sorts of plums, quinces, cherries and much more).
Since Ann and Martin's deaths (in 2016 and 2019), David and Toby Wolfe and their families have continued with the organic rotation agroforestry while also evolving Wakelyns into a hub for farming, food and the environment.
Within the organic rotation cropping in the alleys, we now grow YQ population wheat (as developed at Wakelyns in conjunction with the Organic Research Centre and John Innes Centre), hemp and lentils; and host "RealVeg CSA" – no-dig organic horticulture from Holly, Chloe and Rachel. Spring 2023 will also see vines added as a component within some of the tree lines themselves.
---
Over the years, we've had some good coverage in the media.
This year we were also delighted to be one of the 3 finalists in the Farming for the Future category at the BBC Food and Farming Awards
---
Diversifying and making Wakelyns more sustainable has involved a new focus on "short [food] chains", "enterprise stacking", and people.
Short chains means that, rather than trying to crop and sell the raw produce (wheat, flour, fruit, vegetables, etc.) they are often baked and cooked by Henrietta in the Wakelyns Bakery for sale as food to families within our local area and beyond.
Another of our short chain stacked enterprises, Adam and Emma from Willow Phoenix use Wakelyns and other willow and hazel in a range of on-site weaving and landscaping projects.
Claire & Kitty's "Contemporary Hempery" has brought hemp to Wakelyns as a valuable organic weed-suppressing crop within our organic rotation which will also produce fine fibres for high-quality clothing (and with the shiv woody cores being used by Summer Islam and her colleagues from Material Designs as part of their 'regenerative architecture' sustainable construction projects).
---
For more information see www.wakelyns.co.uk
Or check us out on Instagram and Twitter:
For Agroforestry Open Weekend 2023 we will be open on Saturday 20 & Sunday 21 May.
Booking is essential. Book via the links below.
Well behaved dogs on leads welcome.
Accessible parking available.
Delicious food from the Wakelyns Bakery is available through the day.
One hour long Guided Tree Walks will take place starting at 11 am and 1pm – please book them via the separate link. Please note that information and booking for our all day guided tree walks and guided bird walks (on other dates in the year) is here.
Other than that, you will be welcome to wander round the farm looking at everything that is happening. Members of our team will be around to answer questions, and there will be lots of fun stuff going on in the farmyard area.
Points of interest as you walk round will be identified by signs showing QR codes. Scanning those codes with your phone camera will take you web pages with more information about what you are seeing. So please bring a "smart phone" for the full experience!
Accommodation also available (for the Open Weekend and generally, in conjunction with courses and other events at activities at Wakelyyns) either:
Book here to visit Wakelyns during Agroforestry Open Weekend 2023
Agroforestry Open Weekend at Wakelyns Saturday 10-12 arrival on 20 May 2023 (10:00 am – 12:00 pm)
One Hour Guided Tree Walk – Saturday – 11 am prompt start on 20 May 2023 (11:00 am – 12:00 pm)
Agroforestry Open Weekend at Wakelyns Saturday 12-2 arrival on 20 May 2023 (12:00 pm – 2:00 pm)
One Hour Guided Tree Walk – Saturday – 1pm prompt start on 20 May 2023 (1:00 pm – 2:00 pm)
Agroforestry Open Weekend at Wakelyns Saturday 2-4 arrival on 20 May 2023 (2:00 pm – 4:00 pm)
Agroforestry Open Weekend at Wakelyns Sunday 10-12 arrival on 21 May 2023 (10:00 am – 12:00 pm)
One Hour Guided Tree Walk – Sunday – 11 am prompt start on 21 May 2023 (11:00 am – 12:00 pm)
Agroforestry Open Weekend at Wakelyns Sunday 12-2 arrival on 21 May 2023 (12:00 pm – 2:00 pm)
One Hour Guided Tree Walk – Sunday – 1pm prompt start on 21 May 2023 (1:00 pm – 2:00 pm)